On March 22nd on WORLD WATER DAY from 2pm to 9pm you can experience a lot of artistic things on the subject of water in our theater!
every hour on the hour we show the video installation IMAGINARY SEASCAPE by Dutch artist Lisa Snoek in collaboration with an Amsterdam DJ Jeroen Woertink
from approx. 4:15 pm to 5:30 pm there will be a live broadcast of the performance REFILL by the Hanoverian artist couple Lotte Lindner and Till Steinbrenner, which will take place in Lüneburg at the same time
in between performers will read from of a wide variety of texts on the subject of water
artistic experiments and installations
and the opportunity for personal exchange with the team on the subject

Admission is free — the 3G rule applies (for the time being) including wearing your FFP2 mask.
22 March 2022
2pm — 9pm
admission free
indoors
3G with FFP2 face mask

---
Team I CALL IT WATER Britta Bremer, Andrea Casabianchi, Ronja Donath, Johannes Fast, Laura Jakschas, Astrid Köhler, Lena Kußmann, Lotte Lindner, Lisa Lippert, Romina Medrano, Christiane Ostermayer, Kirsten Piepenschneider, Dennis Pörtner, Nina Reimann, Kassandra Speltri, Till Steinbrenner, Jonas Vietzke.
Gefördert durch
REFILL by Lindner & Steinbrenner
The performance REFILL was developed by Lindner & Steinbrenner as part of the annual project I CALL IT WATER.
Lindner & Steinbrenner cannot be pinned down to one medium. In their conceptual work, they take the given space as an opportunity for their investigations. It is space and material at the same time. The presence and absence of viewers reflects expectations and rules that are inscribed in the space in its apparently uninvolved presence. Movements and observations are guided gently and at times in a challenging manner by newly created boundaries or openings. "Their spatial situations function less as monuments or monolithic sculptures, but rather as settings [...] in which the viewer becomes aware of his own perception and participation [...]. But it's not just about moving and enlivening space, but also explicitly about breaking through the exhibition space as a social space in a very physical way."¹
Lindner & Steinbrenner studied at the HBK Braunschweig with Marina Abramović and have been working together since 2002. For their work they have been awarded the Art Prize of the Sparkasse Hannover, the Zeitsicht Prize Augsburg and the New York Scholarship of the Niedersächsische Sparkassenstiftung and the State of Lower Saxony. In Hanover they also played in the former Dutch Pavilion on the Expo site, the Hodlersaal of the New Town Hall and part of the Kestnergesellschaft for Made in Germany III. They are currently working, among other things, on a permanent installation for the Sprengel Museum in Hanover. They live and work in Hanover.

¹ Rahn, Kathleen in "Raumstationen", Kunstverein Hannover 2015
Foto: Jan Obornik
IMAGINARY SEASCAPE by Lisa Snoek and Jeroen Woertink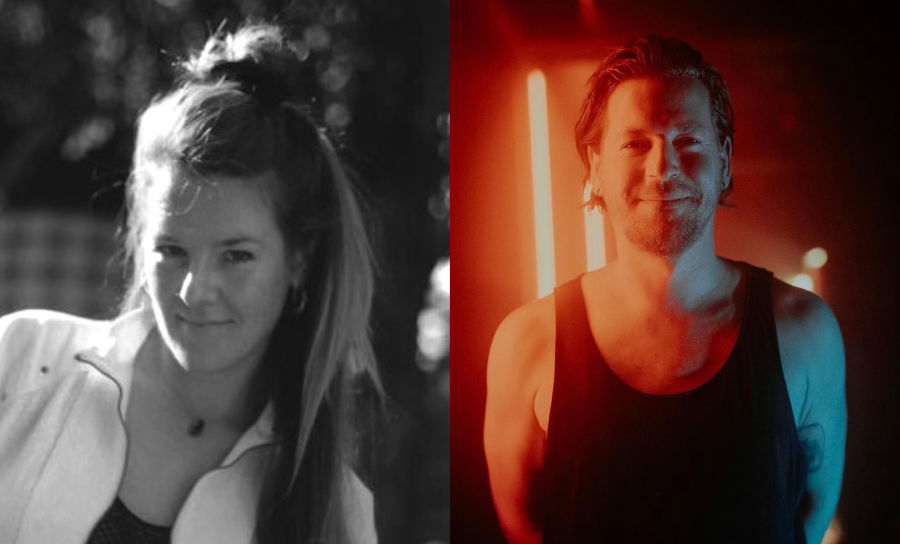 The collaboration was a fluid process where sound and visuals came together organically. The intention was to research the possibilities of merging identities from under and above water trough sound and video. Lisa and Jeroen ripped sounds from vinyl records and found sounds in a big variety of audio libraries. They transformed these sounds and layered them over each other. Lisa collected video material from all different kind of sources, which she layered and added effects to. This resulted in a black and white visual composition of 12 video layers. In the end the sound came together with the visuals and resulted in the "Imaginary Seascape".
Jeroen Woertink is a DJ and producer form the Netherlands. He was part of the DJ duo Pablo Discobar for 5 years and had many national and international gigs. He just completed his artist in residence in Bunk Hotel Amsterdam where he invited creative talent, organized live jam sessions and brought together creative ideas from the music industry. During this residency the collaboration with visual artist Lisa Snoek came to life. It was a great opportunity for Jeroen to explore a new way of creating audio. Instead of playing and producing records, for this occasion he explored the possibilities of creating a soundscape.
Lisa Snoek studies Fine Arts at the Rietveld Academy in Amsterdam and her practice focuses on painting, sound and video-art. She is fascinated by the interaction between human control and organic processes. In her work you'll see a lot of supposed opposites which merge into new identities. She expresses this in dynamic and complex visual fields with a sense of oneness and a wide range of possible interpretations. Lisa holds a Master Degree in Visual Anthropology from the Freie Universität in Berlin and has a background in documentary making and film production.
Künstler*innen Gespräch Lotte Lindner + Till Steinbrenner
Künstler*innen Gespräch Lisa Snoek